Behaviour is at the heart of job performance. It is how you behave and act that determines whether you are a high performer or not. This is more important than what background you have, what knowledge you have,, whether you are a man or a woman, if you are short or tall, what values you have or how much experience you have. This is why Assessio uses a behaviour based Performance Framework to help you use data in a better way, improving the decisions in your organisation and driving the necessary behaviors or behavior changes.
The Performance Framework categorizes behavior in four major performance areas, that apply to all businesses and all levels in an organization. It is built around two axes, one horizontal, ranging from Flexible to Stable, and one vertical, ranging from an Internal focus, to an External focus. These axes combined can define all of work behavior; including teamwork and leadership. There are four combinations and we call these Performance domains.
Two domains are about managing the business. These are: Strategic performance which is about positioning your organization for the future by focusing on long-term goals and change. It's about pursuing vision and innovation. And Operative performance which is about securing results here-and-now by focusing on short-term goals and efficiency. It's about streamlining and getting things done through operational excellence.
The other two domains are about managing the individuals in the organization. These are: Driving performance which is about ensuring commitment through clear goals and performance expectations. It's about taking command, providing direction, following up and driving new initiatives forward. Enabling performance is about ensuring involvement and motivation by taking a step back, providing support and ensuring that others feel involved and are able to utilize and develop their skills as needed.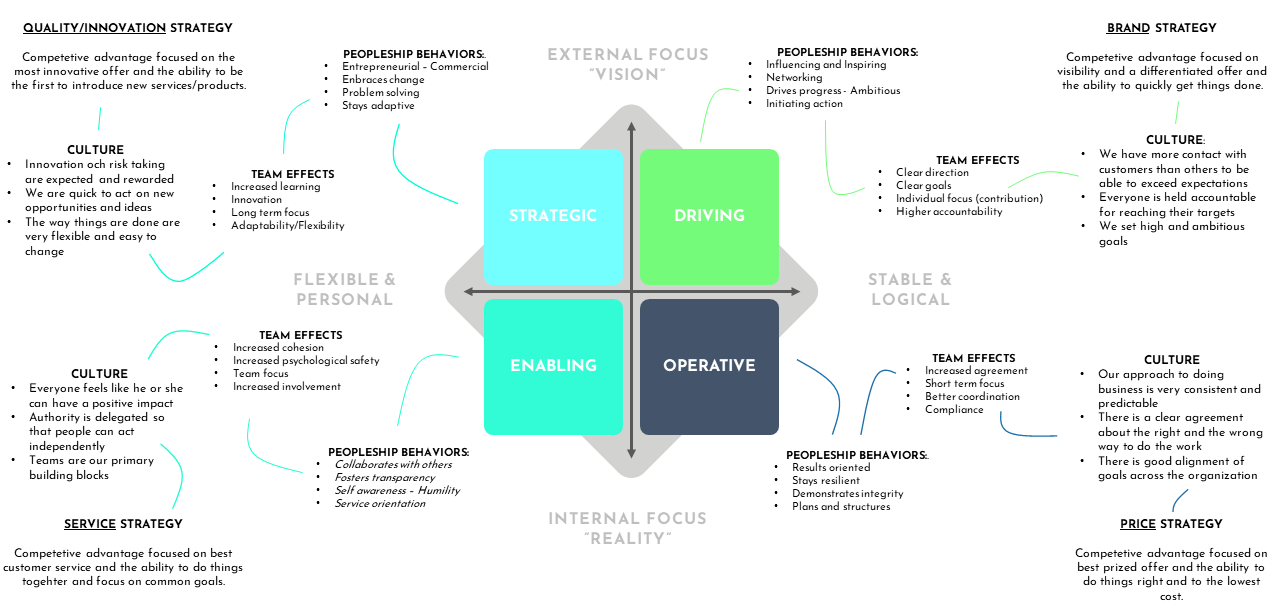 All four domains have specific behavioral competencies attached to them to highlight different behaviors within each domain, including leadership aspects. All these competencies are further defined by their own behavior anchors that are used to separate and further describe and define them.