Competency scores indicate potential for behavior, or how likely someone is to perform certain behavior. Higher scores indicate that the associated behavior of the competency is easier for a person, it is something that they tend to do anyway and it takes them less energy to do, meaning they can perform the behavior even under more difficult circumstances.
The potential for behavior, and thus the competency score, is based on Personality and General Mental Ability. These are measured with MAP and Matrigma. The MAP and Matrigma scales are associated in different ways to the four performance areas and their competencies. This relationship defines the way competencies, and ultimately lenses, are scored. As you can see in the picture below, specific personality facets and GMA weigh differently in each competency score. This is because for some competency behavior a personality facet may be very important, but for others much less so, or not at all.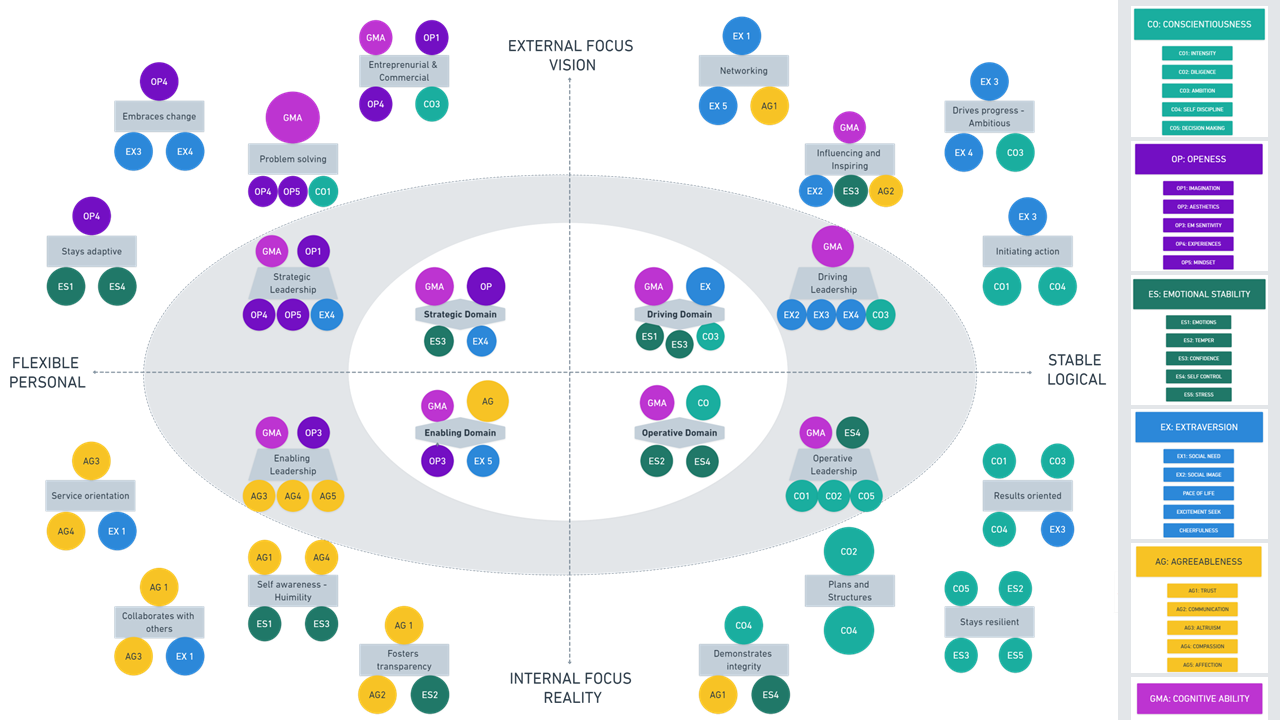 Both MAP and Matrigma produce C-scores, ranging from 0 - 10. These are transformed into percentile scores, ranging from 0 - 100, that are used for competencies. Based on which personality facets are of importance and whether GMA is of importance (see image above), a final competency score is calculated. These competency scores also range from 0 - 100.
One crucial transformation from the test scales to competency scores is that modern research has been applied, which indicates the potential negative aspects on job performance of extremely high and low scores in MAP and Matrigma scales. Assessio has applied this method partly to increase the validity and relevance of job match scores, but also to increase the clarity and actionability of the insights for the individual or team using them. This means that each competency, measured by a combination of MAP and Matrigma scales, is described in three levels:
Risk of underusing the competency - meaning your potential indicates that you might do too little of "target behaviours" which in turn will have a negative effect on your performance.

Just right - meaning your potential indicates target behaviours are likely to come natural to you and therefore it is likely you will behave in a way that drives performance.

Risk of overdoing the competency - meaning your potential indicates that you might do too much of target behaviours which in turn can have a negative impact on your performance.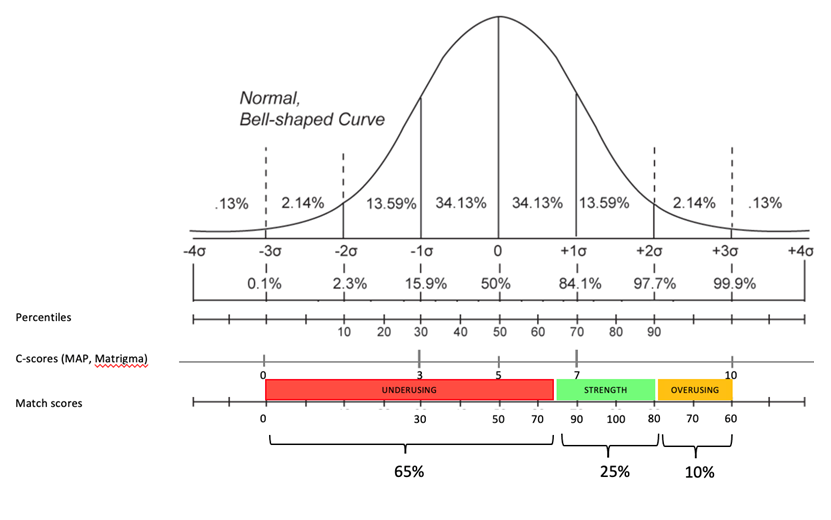 Given that the performance framework takes overused aspects into account, the ideal range for a competency score is between 65-90 in percentile scores. This corresponds to a competency score in the platform of between 80 and 100. All competency scores above 80 are therefore considered as strengths, while all scores under 80 considered as potential development areas and described as either underused or overused.